All Arrangements and Just the Ring
Organizing a wedding is certainly not about one day of ice cream. There is so much involved! In all that hustle and bustle you would almost forget to arrange your wedding rings! Because compared to those other things that you have to arrange and find out, the wedding rings seem very small. But they secretly have a super important meaning. You wear these beautiful rings literally for the rest of your life. In principle, the wedding rings are actually the only elements that remain physically from the wedding. So very important! And that is why we have listed 5 useful tips for you to choose the perfect wedding rings. It is a bit trickier than you think, because Moissanite Wedding Rings come in many shapes and sizes.
Determine the budget for the wedding rings
As with almost every wedding decision, you will also need to set a budget for the wedding rings. You can make it as crazy as you want and before you know it you have spent way too much. Because yes, they look so beautiful! Keep in mind that a wedding ring can quickly cost 500 dollars and then you have not even unpacked. The price of the wedding rings depends on the metal you choose. Silver is of course cheaper than gold. And white gold is again more expensive than yellow gold. In addition, you can also choose a mix of colors of gold or another metal and ah, why shouldn't the bride have a diamond on it? That is of course also possible! Another aspect that influences the price is whether you have the wedding rings designed or choose wedding rings that are made on a larger scale. Some jewelers buy multiple rings (sort of bulk) and can therefore offer the rings cheaper. The more unique your wedding ring, the bigger the price tag attached to it.
Be on time
Arranging the wedding rings a week before the wedding is really much too late. But you also don't have to make a decision six months in advance. Still, it is good to choose the wedding rings about 3 months in advance. If you have selected the wedding rings, they must first be custom-made and engraved. This can take about a month and a half. You can discuss in advance how the rings can be engraved with the jeweler. It will also give you examples. If you have chosen the wedding rings more than 3 months in advance, there is still time to return the wedding rings, after they have been custom-made and engraved, if corrections are necessary. It is possible that the ring does not fit properly or is comfortable. It is very important that the ring is the perfect size. So it should be not too tight and not too loose. You can only find out after the rings are made to measure. If you don't have time for this, you don't have to panic. There are many people who return the rings after the wedding to have them entertained. In any case, make sure you have your own rings in time. So at least 1.5 months before the big day!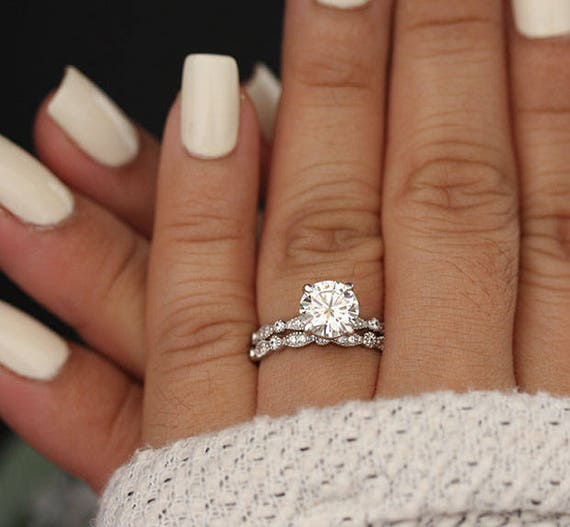 Choose the material and the right size wedding rings
The material of all wedding rings is the basis. This is usually gold. Then of course there is a choice of yellow gold, white gold or pink. In addition, you can also choose from how many carats, such as 14, 18 or 24. This of course depends on the budget. The number of carats indicates how pure the gold is in the ring. The more carats, the purer gold your ring has. Now it seems natural that 24 carat is really the best, but that is not necessarily the case. The higher the carat, the more fragile the ring will be. A 24 carat ring will therefore scratch and deform faster than a ring with less carat. Ultimately, the ring will therefore not get more beautiful. Therefore always go to a specialist!
If you do not want gold rings or if you find gold too expensive you can also opt for silver, platinum and titanium. And nowadays steel and ceramics have been added to this. All materials have their own charm and it really is a matter of taste and budget.
In addition to the choice of material, it is quite essential that the ring fits well. You are 100% sure if you have selected the ring and have it custom-made. Only fitting the ring size at the jeweler does not have to mean that your wedding ring is the same. That's because your wedding ring is made of a different metal. To ensure that you immediately choose the right size (or at least as good as possible) we have a trick for you: make sure you fit the ring on a day when it is not extremely cold or extremely warm. Heat can put your fingers on and when it is cold not. In addition, try to take into account that the day you are going to fit has about the same temperature as your wedding day. Now this is quite difficult to determine in a country like the Netherlands, but every month has an average. Another tip: are you planning to lose a few pounds before the wedding? Then it is not useful to have the rings in before you have said goodbye to the pounds. If you lose weight, your fingers will also fall and will therefore become thinner. If you don't know it all yet, there is still no need to worry. You can still have the ring entertained after the wedding.
Determine your style and design
In the past, all wedding rings looked alike. Almost all were yellow gold, polished and smoothly rounded. No frills and frills. But that is different nowadays! Jewelers designs and manufactures custom-made wedding rings and jewelry. The latest techniques are used and each jewel is made by hand. Jewelers' traditionally forged wedding rings guarantee the highest possible quality. In the design space you can find plenty of inspiration and the wedding rings of your dreams are sketched.
Think about the engraving for the wedding ring
Last, but certainly not least: the engraving! What do you want engraved as text, symbol or sign in your wedding rings? Traditional is: your names and the wedding date, but of course you don't have to. You can also cast a beautiful and meaningful spell in it. Or choose a symbol that represents something that suits you. You are completely free in this and it is an extra possibility to make your wedding rings even more unique. The nice thing about a beautiful message on the inside of the ring is that it is almost a kind of secret that you carry with you all day long. After all, no one can see it. It is also possible to engrave your text, names or symbol on the outside. Why not? It is your wedding rings and you can do whatever you want with it!